Happy New Year, ABLE  Participants!
New Application Period Opens November 2018 for 10th Graders Only!
An Innovative New Mentoring Program for High School Students Interested in Computer Science and Engineering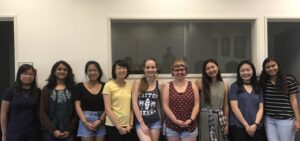 The UCSD San Diego Supercomputer Ceovanter is partnering with two undergraduate campus organizations, the Society of Women Engineers (SWE) and Women in Computing (WIC), to provide a unique mentoring experience for students in grades 10-12. The program's mission is to engage young women in the fields of computer science and engineering through workshops, campus and community events, corporate visits and undergraduate mentor matches. By providing a first hand look into these two areas of interest and highlighting a variety of career opportunities in an encouraging and supportive environment, it is our hope that these young women continue on to pursue careers in STEM fields.
ABLE began its pilot year with a kick off event held in November. This inaugural event will be followed by a series of planned events, all with a focus on computer science and engineering and how these two fields play an important role in our daily lives and in the technology-driven world around us.
Students joining the program this year will be automatically accepted into the program and will have the opportunity to stay involved with ABLE through their high school graduation.
  • Upcoming Events

A great list of events awaits you! Please remember that this is a living document and new events and activities will be added periodically. When updates are made, an email will be sent to alert you.
Please download the ABLE Calendar of Events
ABLE Event Calendar 2017-2018

•  Plans for 2018
The feedback and guidance that we receive from those involved in our pilot-year program will shape our plans for next year. In 2018, the program will revert to an application process for 10th grade students only. Students will be accepted based on information presented in their application. Our current 11th grade members will becomes seniors, our current 10th grade members will become juniors and entering will be a new cadre of 10th graders and this will continue from year to year.  ABLE is loosely based on the Fleet Science Center's middle school-focused BE WiSE (Better Education for Women in Science and Engineering) program.
•  About Anita Borg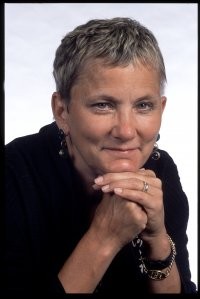 Anita Borg (1949-2003), a noted computer scientist, founded the Institute for Women and Technology (now AnitaB.org) and the Grace Hopper Celebration of Women in Computing.  With a unique capacity to mix technical expertise and fearless vision, Borg inspired, motivated, and moved women to embrace technology. Her dedication and determination to demystify the field of computer science helped women see themselves as active participants in an ever-changing technological society.
•  ABLE Missed Event Policy
Once accepted into the ABLE program, participants are encouraged to attend as many events as your schedule will allow in order to gain the most from this program. Remember, the goal is to help you to better understand the fields of computer science and engineering as a potential career path.
If you are unable to attend an event after you have registered, please contact us at least 72 hours prior to an event. As most events will have limited attendance, therefore, it is important to notify us if you cannot attend so that another student may be able to attend. Students who sign up for an event and subsequently are unable to attend and who do not notify us will receive a warning. Two such warnings will lead to dismissal from the program.
We understand that issues can arise at the last minute to prevent your attendance and we certainly do allow for such situations. We just ask that you be mindful of the responsibility that comes with registering for an event.
•  Program Contacts
Ange Mason, San Diego Supercomputer Center, Manager of Education Programs,
858 534-5064
Lindy Wong, San Diego Supercomputer Center, Education Program Student Staff
Jackie Villalobos, UCSD Society of Women Engineers, Outreach Chair
Leah Guenter, SWE President
Robin Osekowky, WIC  Outreach Chair
Rochelle Manongdo, SWE Project Team Coordinator and ABLE Event Planner
Christina  Ngo, SWE Treasurer
Barabara He, WIC Vice President
Christina Mak, SWE Secretary
Noopur  Khachane, SWE Academic Chair
Tiffany Panm WIC Technical Development
Bryn Henning, SWE Vice President Internal
Payal Singh, SWE Publicity Chair
Brea Torquato, SWE Social Chair
Amy Hu, SWE  Vice President External
Nidhi Bangari, SWE Next Lead
•  Program Advisor
Patricia Winter, BE  WiSE and UCSD Reproductive and Oncofertility Science Academy (ROSA) founder and ABLE Program Advisor